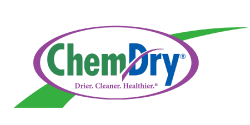 Chem-Dry
Franchise Fee: $23,500
Royalty: $430.89 per month (starting month 4)
Total Investment: $68,145 - $191,196
Can Be Home Based: Yes
Founded: 1977
Franchised: 1978
VetFran Member: Yes
Chem-Dry is the world's leading carpet and upholstery cleaning service in the $10 Billion carpet cleaning industry, with a network of over 3,000 units in over 55 countries serving over 11,000 homes and businesses a day worldwide. Our green-certified solution and proprietary cleaning process
provide a deeper clean, allow surfaces to dry faster, and leave homes healthier. Chem-Dry has been ranked the number one carpet cleaning franchise by Entrepreneur magazine for 31 consecutive years and has been selected as a top 10 home-based franchise and a top 10 low-cost
franchise by Entrepreneur Magazine.